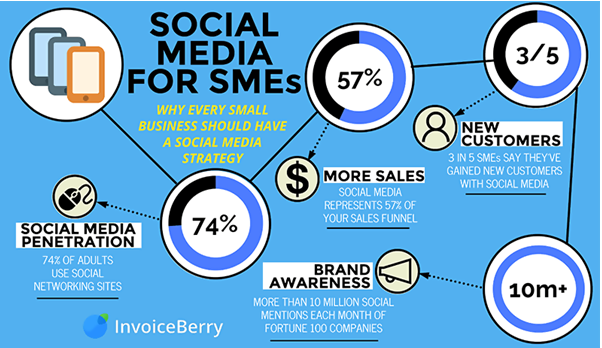 Support a charity
Customers love socially conscious businesses. You can use social media to promote noteworthy causes or share information about various charities. Better yet, hold a contest where you donate to a selected charity in exchange for engagement with your social media page. Social media users who aren't your followers will be lured to follow you because of such charitable initiatives.
Does your business have a logo, mascot, or perhaps a pet representing your business? You can use that as a recurring character on your social media. It will help supporters to recognize and connect with your brand. Also, it would help customers relate with you better, creating a sense of familiarity.
Always make your followers a top priority, and ensure that your strategies align with their interests. Keep up with changing trends to make the most of your social media. And, follow the ideas mentioned above with some useful digital marketing tools to grow your audience and attain your business goals faster.
With the growth of social media, it has become a difficult task to manage your activities. This is where SocialPilot can help you efficiently manage social media marketing. Take up its free trial to be a social media marvel.

Frequently Asked Questions
🌟 What is social media marketing promotion?
Social media promotion refers to branding various social media platforms to showcase your offerings to a global audience. It lets you promote your brand for free. You can employ sponsored ads at a low cost to widen your branding reach.
🌟 Which social media is best for promotion?
Your promotion on social media largely depends on your business type. If your target audience is younger demographics, then Instagram, TikTok, and Snapchat would be ideal for you. On the other hand, if your audience consists of working adults and senior professionals, LinkedIn, Facebook, and Twitter are best for your social media promotion.
🌟 Why is social media good for promotion?
Social media is good for promotion because of its large user base. More than half of the world's population is already on social media. Hence, reaching out to the audience becomes incredibly easy. With the help of personalization and targeting strategies, you can get in touch with potential customers and increase your revenue.
🌟 What is the role of social media in promotion?
Social media plays a vital role in promotion. For example, a new website visitor would like to visit your social media handle to check out your followers and valuable testimonials before purchasing. Social media provides social proof of your brand loyalty and boosts your awareness of your quality service.
🌟 What are some of the important social media marketing tools?
🌟 Which is the best marketing tool?
SocialPilot is one of the best marketing tools as it allows you to manage multiple accounts on top social media platforms at once. This affordable tool lets you curate content, design posts, and schedule your social media posts at the best time to get more visibility and engagement.
Martin Ochwat is a leading writer focused on digital marketing and e-commerce. He is passionate about writing vibrant content that's easy to read and inspires readers to take action. Martin is currently working on a zero-waste brand Wellow and digital insurance brokerage Dundas Life .
Promoting Products and Driving Sales on Social Media
In this second section, we'll take a look at a few ways you can promote your accounts with an end goal of driving sales. Depending on your business, these sales can be captured directly from social media or show up as referral links in your website.
6. Create Targeted Ads
Take advantage of Facebook's audience data to target interest groups. If you've recently shopped online for shoes, you may notice that you're receiving more shoe ads than before. That's because Facebook noted your shopping habits and added you to that interest category.
7. Tag Products to Your Posts
A feature available on Instagram and Facebook, shoppable tags are a must for retail brands. They identify your products to your customers and customers can easily purchase from your website through the tag.
8. Provide Social-Only Discounts
In traditional advertising, you see weekly deals in the newspaper or receive discounts in email. Social is no different. These discounts are served to a certain segment of your audience and end after some time.
Driving Brand Awareness with Social Media Promotion
In this third part, we'll address a few social promotions you can take on with a goal of getting your brand in front of as many people as possible. Your success metric here is usually the number of impressions.
9. Contests & Giveaways
These are a no-brainer for brand awareness. Setting up a low-barrier contest for your brand is simple and there are many examples of successful contests. The easiest giveaways are those where the fans have to do very little to enter. These are also the highest in engagement. If you're just starting out on contests, we would recommend this route.
If you want to up your game, try a user-generated contest where there's a hashtag specifically for the event. To monitor and respond to entries, use a hashtag tracking tool like Sprout Social. Our reporting feature will also track how successful the contest campaign was.
10. Alter Your Approach Per Network
Writing the same copy for every network won't get you the best results. Your audience on LinkedIn is likely not the same as the one on Facebook and that's okay. You may use the same photos or videos but your copy should change.
After examining how your audiences are different, experiment with various tones and vocabulary. If your sales partners are mostly on LinkedIn, then your copy will be more sales-oriented. If your audience on Snapchat is younger, then you'll use more gifs and memes.
11. Get Your Employees Involved
Employee advocacy is quickly becoming a major source of content amplification for brands. With the help of your loyal staff, you can encourage them to promote specific and tailored messages directly to their social channels for further reach.
12. Create an Ambassador or Loyalty Program
The entire idea of an ambassador program is based on brand awareness. You work with passionate customers who want to talk about your product to all their friends. It's naturally designed for brand awareness.
Creating and supporting an ambassador program takes time and patience. If you don't have the resources, consider setting up a loyalty or referral program instead. Hand your loyal customers some referral codes and reward them with a discount when their referral purchases. Once this has launched, you can announce this on social media and let customers know when you comment on their posts.
Jenn Chen is an SF-based digital strategist, photographer, and writer who works with specialty coffee companies to make them look awesome online. She also has a penchant for cake donuts. Connect with her online @thejennchen & at jennchen.com.
Frequently Asked Questions for Social media promotion
1. Which social media is best for promotion?
These sites are used by almost every other individual worldwide. Facebook and Instagram are the industry leaders with 2.6 billion and 1 billion monthly active users respectively. They allow you to engage with your audience and run targeted advertisements to promote your products and services.
2. Why is social media good for promotion?
Traditional marketing went out of the window a long time ago, and for good reasons. In today's digital world, brands that are not present on social media, don't practically exist. People (especially the younger generation) tend to search for a brand on social media before making an online purchase or paying a visit to their store.
Social media platforms help businesses to connect with customers, increase brand awareness, and boost leads and sales. With more than 3 billion people using at least one social media platform, the potential for growing your business is immense.
3. How much does it cost to do promotion on social media?
Depending on your business and social media strategy, you can allocate a lower or a higher budget for running paid advertisements on social media. Below is the list of lowest possible ad spend across the most popular social media platforms.
4. How can I promote my business on Facebook without paying?
5. What are good promotional ideas?
Resources:
https://www.socialpilot.co/blog/social-media-promotion-ideas
https://www.webfx.com/social-media/learn/social-media-promotion/
https://sproutsocial.com/insights/social-media-promotion/
https://blog.wishpond.com/post/115675437188/social-media-promotion
https://recurpost.com/blog/social-media-promotion/