Allowing someone else to read your work can be brutally difficult for some writers, especially when they're just starting out, but it's crucial that you develop good habits from the outset and learn to accept constructive criticism about your work. Remember – writers are desperately needy creatures who need to be constantly reassured that they're the creative geniuses they believe themselves to be, but you'll need to develop a thick skin if you're serious about your work, and a good editor is invaluable when it comes to toughening up.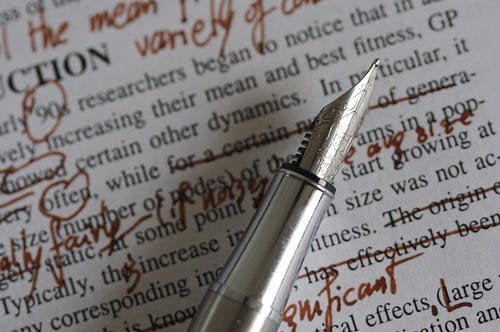 How to Improve Creative Writing Skills: 10 Fun Ways for Kids!
Want to be a novelist when you grow up? But worried that your English skills may not be up to scratch. Or maybe you just can't seem to find the right inspiration to get you started! Here's a list of 10 ways to improve your creative writing skills this summer. Guaranteed to leave you inspired and ready to write your next big novel or a super sweet short story!
Before we tell you how to improve your creative writing skills, you need to know what exactly this means. Creative writing refers to fictional writing or storytelling. Take, for example, a newspaper article is not an example of creative writing, as it must include facts about a situation. While with creative writing you can use your imagination to make stuff up. Generally, the purpose of creative writing is to produce something which is entertaining, engaging and even personal.
Many writers use creative writing as a way of expressing their feelings and thoughts. It is a type of art form which uses words instead of pictures to connect with people. Examples of creative writing may include:
10 Ways to Improve your creative writing skills
1. Read everything you can find!
Let's start with the obvious one! Read a lot! Read anything you find lying around your house from old storybooks to newspapers. While reading this stuff, pay attention to the words being used by the writer, the use of metaphors, adjectives, characters, the plot, the conflict in the story etc. If you come across a word you don't understand, use a dictionary to find its meaning and then practice using it in a sentence to gain a better understanding of that word. For more ways to get kids reading, check out this cool article.
2. Find inspiration in everyday things.
The world around you is full of interesting events. Go for a walk and ask yourself questions, such as what is that person doing? What is that dog looking at? Why are those people arguing? Write a summary of something that is happening on the TV or a video game you just finished playing. Write about everything and anything you see, hear, smell or feel! You'll be surprised at what pops up in your head.
3. Use writing prompts to inspire you.
There are tons of resources on the internet that can inspire you, in magazines, newspaper headlines and any other words you find lying around. Why not check out our writing prompts for kids or sign-up for our newsletter for monthly creative writing resources.
4. Criticise the work of others.
When reading a book, try to identify the flaws in that story and list a couple of improvements. Also, note down the best parts of that story, what did you enjoy while reading that book? This can help you to understand the elements of a great story and what to avoid when writing. You can aim to do weekly or monthly book reviews on the books you read. Soon you'll be able to master the secrets of great creative writing like a master!
5. Keep a journal and write something in it every day.
Even if you think your life is boring and nothing interesting ever happens in it. You can write about your goals and inspirations or what you did for lunch today. Anything is better than nothing! One day you'll look back at these notes and they'll inspire you to write an awesome story – you never know.
6. Play imaginative games.
Games such as cops and robbers or pretending to be a character from your favourite TV show or movie can be really inspirational. You can use our printable Red Riding Hood paper finger puppets to role-play the story of Red Riding Hood! Link a writing activity with these games, such as writing a day in the life story for a character you are playing or sending an imaginary letter to your favourite character in the story.
7. Rewrite a famous story.
Sometimes creating new characters or a story plot from scratch can be difficult. To improve your creative writing skills you can take a well-known story, such as Cinderella or any other fairy tale and change it slightly, so it has a different ending or comes from a different character's perspective. For example, you can write from the point of view of the ugly stepsisters and how they felt when Cinderella found her Prince Charming! Or what if Prince Charming chose the stepsisters over Cinderella, what would she have done to escape?
8. Use image prompts to inspire you!
Image prompts, such as photographs, paintings, or a picture in a magazine can be great. You can even take your own pictures when on a day out or on holiday. When you come home, for each picture you can write an interesting caption to describe it. You can even try creating a whole story from all your holiday photos!
9. Incentivise your writing!
When writing, try setting yourself some small goals. For example today I will aim to write 100 words. Once you achieve this goal, give yourself a reward. This can be anything you like, such as going out with your friends, watching your favourite film or playing your favourite game. The important thing is that you stay motivated when writing. This is most important when trying to improve your creative writing skills.
10. Connect writing with your interests.
If you love football, why not write about your favourite footballer? How would you feel if you met them? What would you say to them? Why not write an imaginary letter to them? Whatever you enjoy doing, you can link any writing activity to it!
Dissect Writing That You Admire
Find a handful of recent blog posts you really like, then print them out. Next, just like your high school English teacher did, take a red pen and highlight things you liked: certain sentences, turns of phrase, even entire paragraphs. Examine why you like these elements, and see if there are any common threads in your favored reading material. See how writers take one subject and transition into another. Apply these techniques to your own work.
Immediately, you're hooked by Morris' opening. You can't not read to see what happens next. The pacing is excellent, it grabs your attention, and best of all, it keeps you reading. This piece was first published back in June, and I still remember it. Read the full post here, and see how Morris masterfully tells the story of a band named Death and how this relates to writing content.
Interesting details about setting and location
Another way of keeping your reader interested is to bring your essay to life with details about setting and location, just as creative writers do. Essays can become quite dry if you focus solely on the academic problems, but you can make them more interesting by peppering them with details. This may not work quite so well for a scientific essay, but it's certainly relevant for some humanities subjects, in particular English literature, history and archaeology. For example, an essay about the Roman emperor Augustus could mention that he lived a famously modest lifestyle, quoting details from Roman writers and archaeological evidence that support this: Suetonius mentions his "low bed" (interesting because of what it says about accepted standards of Roman beds!) and coarse bread and cheese diet, and the relatively small and non-lavish remains of his house on the Palatine Hill in Rome back up the idea of his having lived a modest life.
Incidental details like these can actually prove to be more significant than you initially realise, and you can use them to build your argument; in the case of Augustus, for example, his modest lifestyle is particularly important when seen in the context of Rome's troubled history with kings. As he gradually acquired more power and became Rome's first emperor, he had to avoid coming across as being too 'regal', and the little details we know about his way of life are significant in light of this. So, not only have you brought your essay to life, but you've raised an interesting point, too.
Few writers get it right first time. Once you've written a first draft, read through it and think about whether the order of your points is optimal and whether what you've written actually makes sense. It's easy in the age of computers to chop and change – you can simply copy and paste part of your essay into another part where it might fit better, and then make minor changes to your wording so that it flows. After you've finished editing, have a final read through and check that you're happy with the wording. Don't forget to proofread to ensure that your spelling and grammar is impeccable!
And finally… record your ideas
Keeping a notebook to hand helps you gather good ideas when they come to you.
Creative writers swear by having a notebook with them at all times, ready to jot down any ideas that suddenly spring to mind. You can adopt the same principle for your essay-writing, because you never know when the inspiration might strike. Have a think about your essay topic when you're out and about; you'd be surprised what occurs to you when you're away from your normal place of study.
As you can see, there are more similarities between two apparently unrelated kinds of writing than you might have realised. It is, of course, possible to go too far with the creative writing idea when you're essay-writing: literary devices aren't always appropriate, and your essay still needs to retain objectivity and conform to the more formal conventions of academic writing. But there are certainly techniques to be borrowed from creative writing that will help your essays stand out from the crowd and give your teacher or lecturer a welcome break from the monotony of essay-marking.
Sources:
https://www.imagineforest.com/blog/10-ways-improve-creative-writing-skills/
https://www.wordstream.com/blog/ws/2014/08/07/improve-writing-skills
https://www.oxford-royale.com/articles/techniques-creative-writing-improve-essays/