Resume Tip: There are several studies that theorize relationships between resume cues and the applicant's personality and hireability, further impacting hiring judgments through resumes. Be careful which info you choose to include!
Tips for Creating a Great Resume
With the current labor shortage and low unemployment rate, job seekers are at an advantage when it comes to applying for jobs. However, that's not to say that you don't need a professionally written resume. Employers still want to find and hire the best employees for each open position, and resumes are the first step in that search. There are several strategies you can use to make your resume stand out and demonstrate that you are the best candidate for the job.
Your resume is the most important document you'll submit in your job search. It's your frontline fighter, so to speak, as it's your first opportunity to present yourself to a potential employer. Hiring managers and recruiters look at resumes for an average of only six to seven seconds each, so it's important that you make every second count. A strong resume can help you stand out from the crowd, but a weak resume can remove you from the running.
Simple resume writing tips to help you stand out
It can be difficult to succinctly present all of your experiences and qualifications on one page, but there are many ways to spruce up your resume without going overboard. To help you land an interview, we rounded up some of the best resume writing tips.
1. Keep your resume short and direct.
The No. 1 rule of writing a resume is to keep it short and to the point. The general rule is no more than one page unless you have a very good reason for it to be longer, like an extensive career or a lot of highly applicable work experience.
An easy way to keep your resume concise is to include only recent, relevant experience. While that yearlong first job might have taught you a lot about the field, it's not always necessary to include every detail from your entire career history.
Most experts recommend including jobs from the previous 10 or 15 years only, although this time frame may be shorter if you are new to the workforce. Including too many unrelated work experiences can make your resume appear too busy and draw attention away from your relevant qualifications. Your resume should be focused, clear and concise.
2. Create an original resume template.
Employers appreciate originality. While it's helpful to refer to a professional resume template, don't follow it rigidly. Zippia found that more than 60% of hiring managers consider a customized resume as the top strategy for job applicants to increase their chance of landing a job.
"I often pass over resumes that match Microsoft Office templates," Claire Bissot, SPHR and director of Kainos Capital, told us. "The templates are meant to be a guide to get started, but it should be expanded on to make it your own."
Format your resume so that it is easy to identify your qualifications. For instance, Bissot recommended, if you advanced in a company quickly, draw attention to that growth. If you excessively job-hopped, bullet those jobs without providing specifics and detail more applicable positions. This will play to your assets.
When structuring your resume, make sure the information is presented in a logical order, said Veronica Yao, owner of CareerProse and marketing communications manager at Fonolo. "A hiring manager [will] read your resume starting at the top and ending at the bottom. However, if they don't finish reading the whole thing – and they often don't – you still want to ensure your strongest points come across."
3. Highlight relevant skills and experiences.
Using the same resume for every job you apply for is not a good approach. Instead, your resume should target the specific job you are applying for. Be sure to prioritize the skills, qualifications and experiences that are directly applicable to the job you are trying to land.
Choose three or four former positions or experiences that best highlight the skills required for the position for which you apply. Employers value brevity; this is not the time to list every position you have ever held. For example, if you are applying for a marketing position, you could include your former retail experience and bullet the communication, branding and interpersonal skills you learned in that position.
If you don't have a work history that directly relates to the job you are applying for, get creative with how you present your other experiences. Draw on the skills you used and how your contributions benefited the organization or project. [Read related article: 38 In-Demand Skills to Help You Get the Job]
4. Demonstrate results with numbers and metrics.
When you write about your previous work experience, it is always a good idea to quantify your successes with numbers. Using metrics can highlight your achievements and give the hiring manager or recruiter a clear sense of how you impacted your previous place of employment. For example, someone who previously worked as a sales representative might say that they "executed more than 50 cold calls daily, with an average 5% conversion rate."
5. Craft a career snapshot.
"With the career snapshot, you present a branding statement that briefly explains your unique value as well as your skills and qualifications," said Tomer Sade, CEO of Book a Space. "This would then be followed by a few bullet points that highlight your experience and your accomplishments. Whatever you list here should be relevant to the position you're applying to."
Think of your career snapshot as an answer to the question "How would you describe your work experience in one sentence?" The summary is an opportunity to sum up your most relevant and important skills, experience, or assets right off the bat.
6. Optimize your text.
If a company uses an applicant tracking system (ATS) to collect and scan resumes, a human hiring manager may never even glance at any application that doesn't fit the job criteria they've entered. Trish O'Brien, vice president of human capital operations at PSI Services, emphasized adapting your resume to the position to increase your likelihood of passing the first level.
Resume Content – What to Mention on Your Resume
Contact Information
Resume Summary or Objective
The same applies to your job search – the HR manager spends around 6 seconds scanning each resume. Yep, your carefully-worded, hand-crafted resume only gets 6 seconds of attention. Unless, of course, you manage to leave an amazing first impression.
What's a Resume Summary & When to Use it
A resume summary is a 2-3 sentence summary of your career. You should use a resume summary in basically any situation, unless you're a recent university graduate or switching careers (in that case, you use a resume objective. More on that later!).
What's a Resume Objective & When to Use it
Work Experience
How to List Work Experience in a Resume
Job Title/Position – Your job title goes on top of each work experience entry. When the HR manager scans your resume, you want them to know, at a glance, that you have relevant work experience for the job.
Company Name / Location / Description – Then, you mention the name of the relevant employer, as well as the location of the office you work/have worked in. In some cases, you may also want to briefly describe the company, if the organization is not a famous household name.
Achievements and Responsibilities – This is the core of each work experience entry. Depending on your field, you want to list either your achievements or responsibilities. We'll get more into the how's and why's of this in a bit.
Dates Employed – The timeframe of your employment in each company. Not sure about the exact dates you worked somewhere? Don't worry – you don't have to be accurate by the day, as long as it's close. The standard format expected by recruiters and employers is mm/yyyy (this is especially important when your job application will be parsed by an Applicant Tracking System).
List Achievements When Possible
Tailor Your Resume to the Job
So, let's cover a simple example on how to do this. Let's say that after reading the following job ad for the position of a digital marketer, you discover that the most critical requirements for the job are:
How much work experience do you include in your resume?
If you've got over a decade's worth of work experience, you're probably confused about how much of it you mention in your resume. After all, If you had to list everything you've ever done, you'd end up writing a mini-novella.
How to List Education on Your Resume
Emphasize Your Know-How with the Skills Section
Soft Skills (Personal skills). These are a mix of social skills, communication skills, personal traits, career attributes, and so on. Leadership, critical thinking, management, and communication, just to name a few.
How to List Skills in Your Resume
Expert – You've applied this skill in more than a handful of different projects & organizations. You're the go-to person for advice about the skill, not just in your office, but even amongst some of the best professionals in your field.
Imagine your first task at work as an Illustrator – to create a graphic vector to go nicely with an article. If you end up delivering a hastily drawn stick figure colored with a paint bucket tool in Microsoft Paint, you'll be out of the job before your probation period ends.
Step #2 – Tailor Your Skills to the Job. You might have some super rare, awesome skills, but they're not always going to be useful. For example, it's awesome that you know accounting, but would you really need it at your new job as a line cook? Exactly!
Perfecting Your Resume – FREE Checklist
Does your contact information section have all the must-have information?
Is your contact email professional? E.g.: [email protected]
Are you using the right resume format?
Is your resume 1-2 pages?
Did you include all the must-have sections in your resume?
Did you list only the most relevant work experiences?
Did you list achievements instead of responsibilities?
Did you tailor your resume to the job ad you're applying for?
Did you mention the right amount of work experience in your resume?
Did you list your education in your resume?
Did you list all the right skills for the position you're applying for?
Did you add any other important resume sections?
And finally, did you proof-read your resume? We'd recommend asking a friend or using software like Grammarly.
If you ☑'d all the points? Congrats! You've mastered all there is to know about how to write a resume, and you're good-to-go to move on with your job search! If you missed some points, though, just go through your resume one more time and perfect it as much as possible.
Frequently Asked Questions about How to Make a Resume for a Job
How to make a resume for a job?
First, read the job ad carefully to pick up keywords for your resume that you'll target to pass the Applicant Tracking Software test. Next, create resume sections necessary to present yourself, your qualifications, and your strengths. The sections are:
Depending on the industry and experience, you'll have to think about which additional sections work best. But you definitely can't write a resume without the other five. You can spare yourself the worry by using our resume maker.
How to write a resume for the first time?
Write your first resume with transferable skills in the skills and resume objective sections. In the work history part, add accomplishments examples that prove your qualities of a valuable employee, such as curiosity, eagerness to learn and assist, and developed communication skills. Internships and volunteering placements fit there perfectly. And most importantly—put your academic achievements right below the objective to highlight your educational advancement.
How to make a good resume that will impress recruiters?
An impressive resume is a resume that reads well and looks so, too. So before you get down to writing the nitty-gritty details of your professional and academic achievements, take care of the resume formatting and layout.
Only then move on to adding the biggest successes under each section: resume profile, experience, education, and skills. But—additional parts make the strongest impression, so don't forget to include awards, certifications or licenses, or extracurricular activities to your resume. Say you're an achiever, not a doer.
What is the format of a resume?
The chronological format is the most popular resume format suitable for every job applicant—an entry-level position, a specialist, or an executive. By choosing it, you decide to show off your career progression.
Combination format, aka a hybrid, is a well-blended mixture of the chronological and functional formats. It's the most complex one to write as it includes a skills summary and an extended experience section, which is apt for senior positions.
How to make a resume in Word?
You can spare yourself the trouble and use a pre-made Word resume template. But if you have quite some experience with text formatting (and plenty of time), start making your resume in Word. Create a clean layout, choose a font that reads well, and limit the number of graphic elements on the page not to overwhelm the ATS. Then, add the main and additional resume sections in an order suitable for the resume format. Save it in a Word or PDF file at the end, keeping in mind the instructions from the recruiter.
What does a good resume look like in 2022?
In 2022, you need to make even a stronger impression than in the previous years. Use a modern resume template and include the most important sections: personal information, summary or objective, employment history, education, and skills. Add your best achievements under each section and quantify them. Show your future employer that you've had an impact and will continue to bring results.
Sources:
https://www.businessnewsdaily.com/3207-resume-writing-tips.html
https://novoresume.com/career-blog/how-to-write-a-resume-guide
https://zety.com/blog/how-to-make-a-resume
Resume writing
The website Resume Genius claims you can "create your professional resume in 15 minutes." (I tested it out, and indeed had a solid first draft of an easy resume completed in about 10 minutes.) First, select one of 17 different template options, and then move through a series of questions (i.e. "Do you have work experience?" and "What's your highest level of education?"), which lead you to then fill out boxes of additional information. It's easy to move through, though you do have to do it in order, and fill in every text field before continuing.
Resume Writing Tips
This page is designed for undergraduate students from all kinds of majors and provides introductory advice on how to write a resume. The word "resume" comes from the French for "to summarize," which is the purpose of a resume: to summarize your education and experience for your potential employer in a way that positions you as a good candidate for the job.
Prospective employers may receive hundreds of resumes for any one job, and their time is limited. Therefore, you want to make sure that your resume will help you stand out among all the other applicants as a good fit for the position by tailoring the information you include to your audience and to the position description. Your integrity is important, so make sure that anything you include on your resume is accurate and will stand up to questioning in an interview.
Everyone wonders about how long a resume should be. The usual advice is that, for a current undergraduate student or someone just finishing an undergraduate degree, usually one page is enough. As you accumulate more experience your resume will get longer. We recommend asking a career advisor, professor, or professional in your field about the appropriate resume length.
In fact, you should consult with faculty and career advisors in your field no matter what, but here are some basic principles designed to help you get started. Click on the links below to be taken directly to a certain section of the page, or scroll down to read about all of our tips.
Types of resumes
Chronological
The chronological resume lists past and present experiences in reverse chronological order. Present experience is usually listed first, using present tense verbs, then all other experience is listed in reverse chronological order using past tense verbs. This is by far the most common type of resume.
Skills-based
Skills-based resumes base resume sections around specific skills related to the job. For instance, if you are applying for a teaching job and you have relevant teaching experience, plus other work experience unrelated to teaching that would make you a good fit for the job, you might include a section on "Teaching Experience" and a section on "Other Work Experience." This method helps clearly highlight relevant experience using section titles in addition to job descriptions, and is a great way to pull out keywords.
Skills-based resumes can also allow you to combine related work and other experience through the skills-based headings. In the above example involving a resume for teaching, you might list your extracurricular tutoring experience in the "Teaching Experience" section instead of in the "Other Experience" section of a skills-based resume.
Skills-based resumes prioritize experience description order based on relevance to the job, rather than chronology. Use a skills-based resume if your previous job experience does not necessarily fit with the job you are applying for. The sections labeled with skills will help show your employer how your past experience is relevant to the job.
Combined
The combination resume is the type of resume we most commonly see in the Writing Center. Combination resumes might include some skills-based headings, but list experience in each section in reverse chronological order. Combination resumes allow you to show your audience your recent relevant experience, while also taking advantage of keywords, which is good for online resumes that might be found via search engines.
ResumeSpice
A recruiter-friendly option
Once you choose, you'll fill out a short questionnaire and schedule a phone consultation with a resume expert to discuss your experience, job search and career goals. The expert will take that information and turn around a personalized resume draft within two business days. You can review the draft and request any changes, and you'll get the final version in PDF and Word formats.
An entry-level resume costs $449, a professionally written resume costs $569, and an executive resume costs $689. You can also add a cover letter, LinkedIn profile, interview coaching or other services to help you be more competitive in the job market.
3. Add a resume header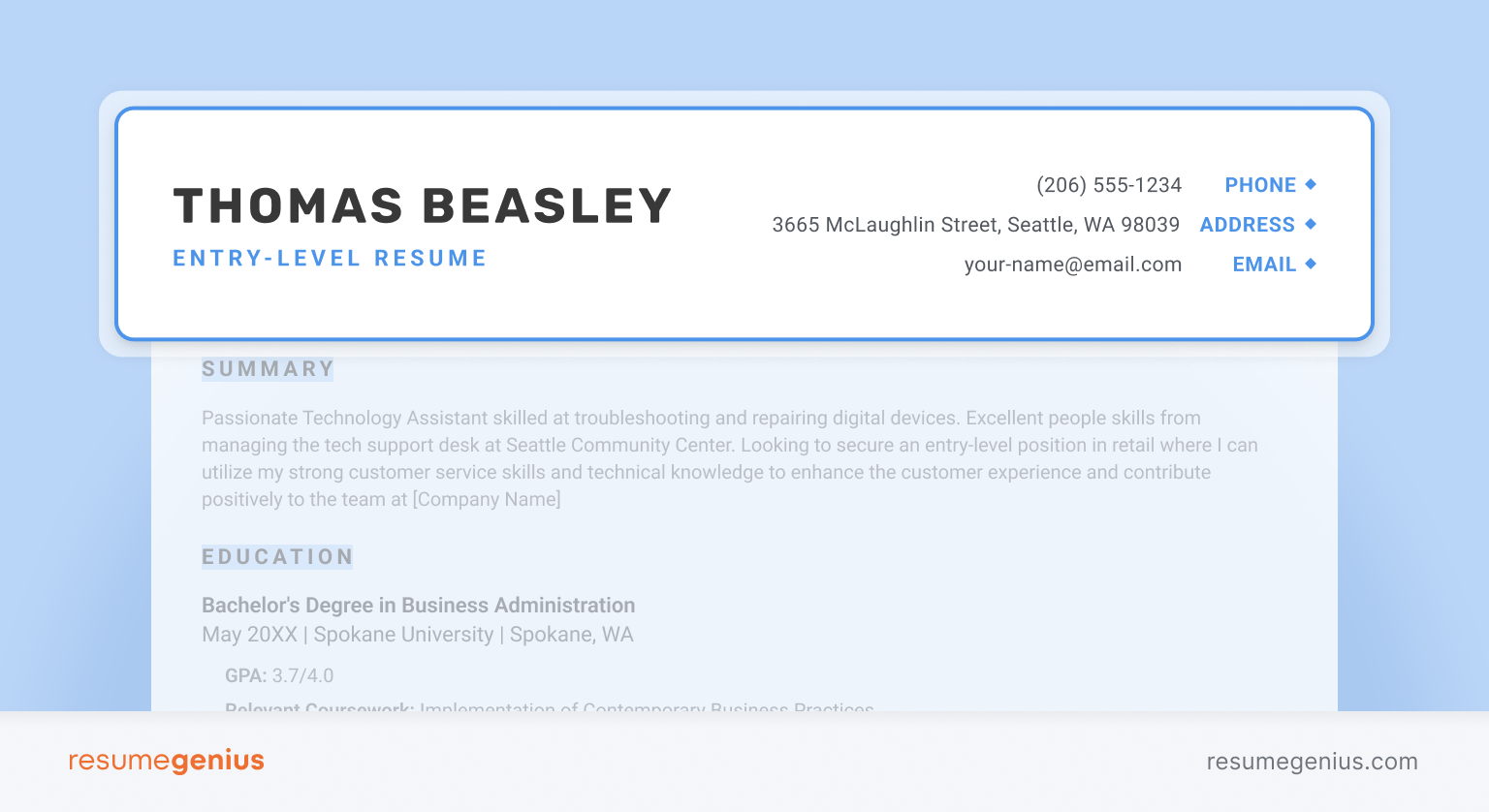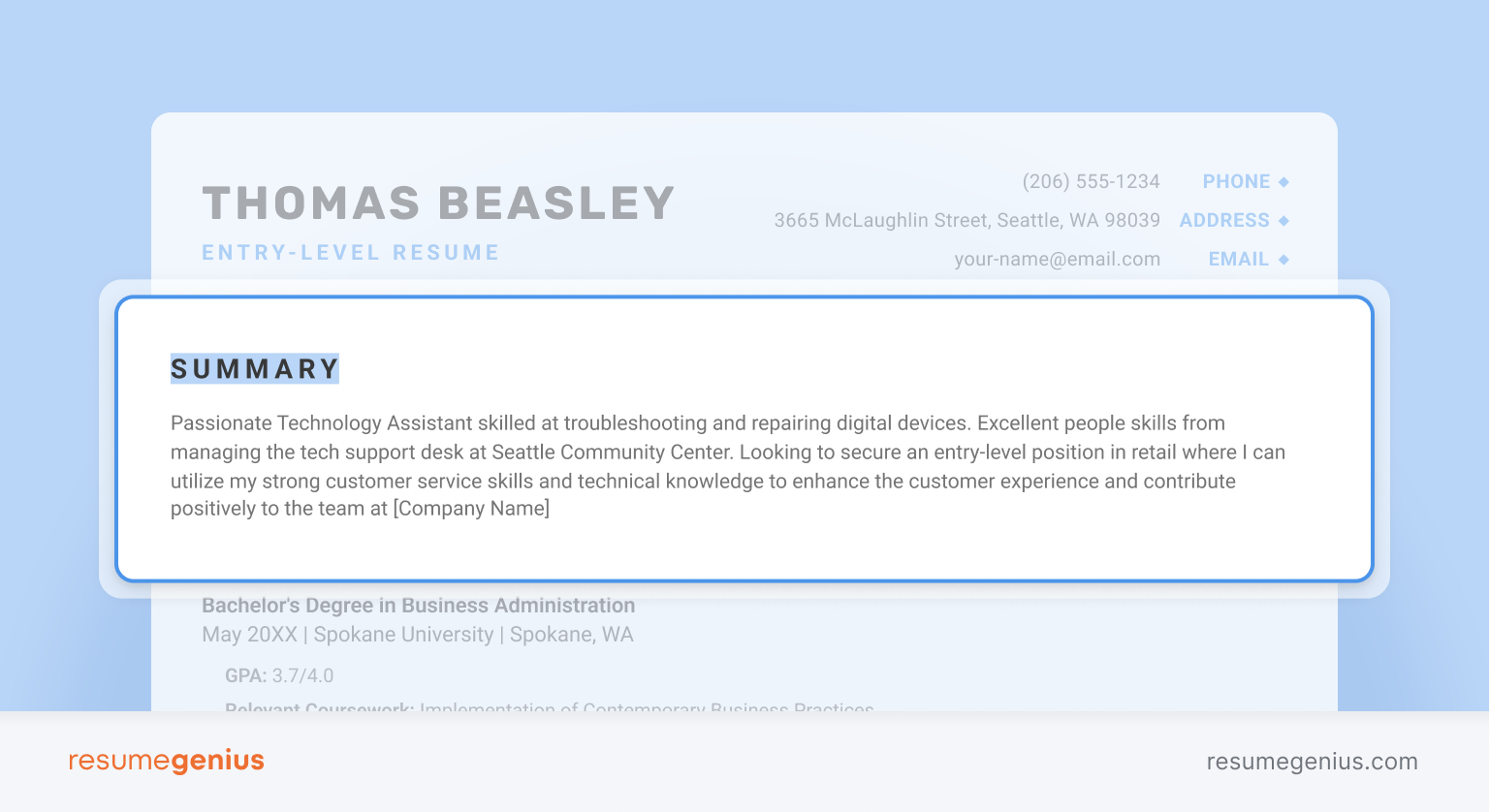 Hiring managers, especially those at large companies, have many applications to review for each job opening. With so much competition, it can be tough to make sure your resume gets the attention it deserves.
Your resume introduction provides a quick snapshot of your experience, skills, and qualifications at the very top of your resume. It should be 3–5 sentences, and can be written in either sentence or bullet-point format.
1. Resume summary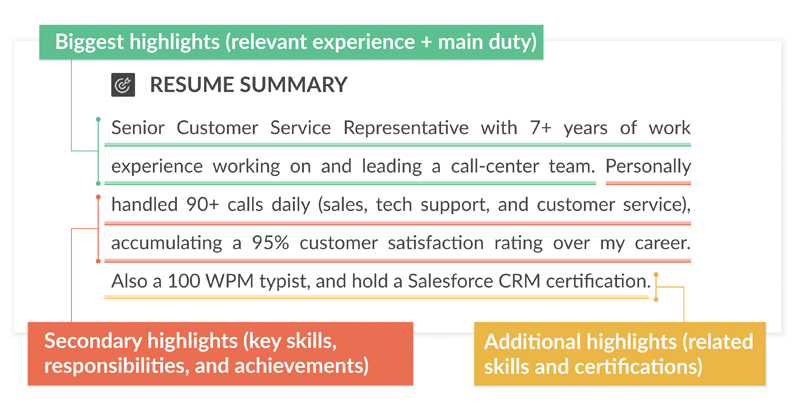 2. Resume objective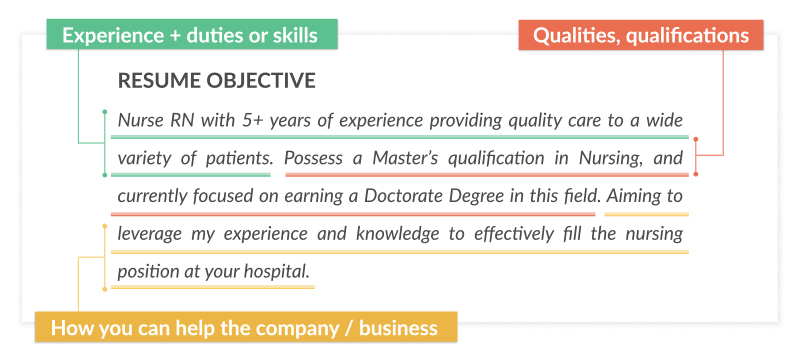 Here's the formula for putting together an effective resume objective:
5. Target your work experience to the job ad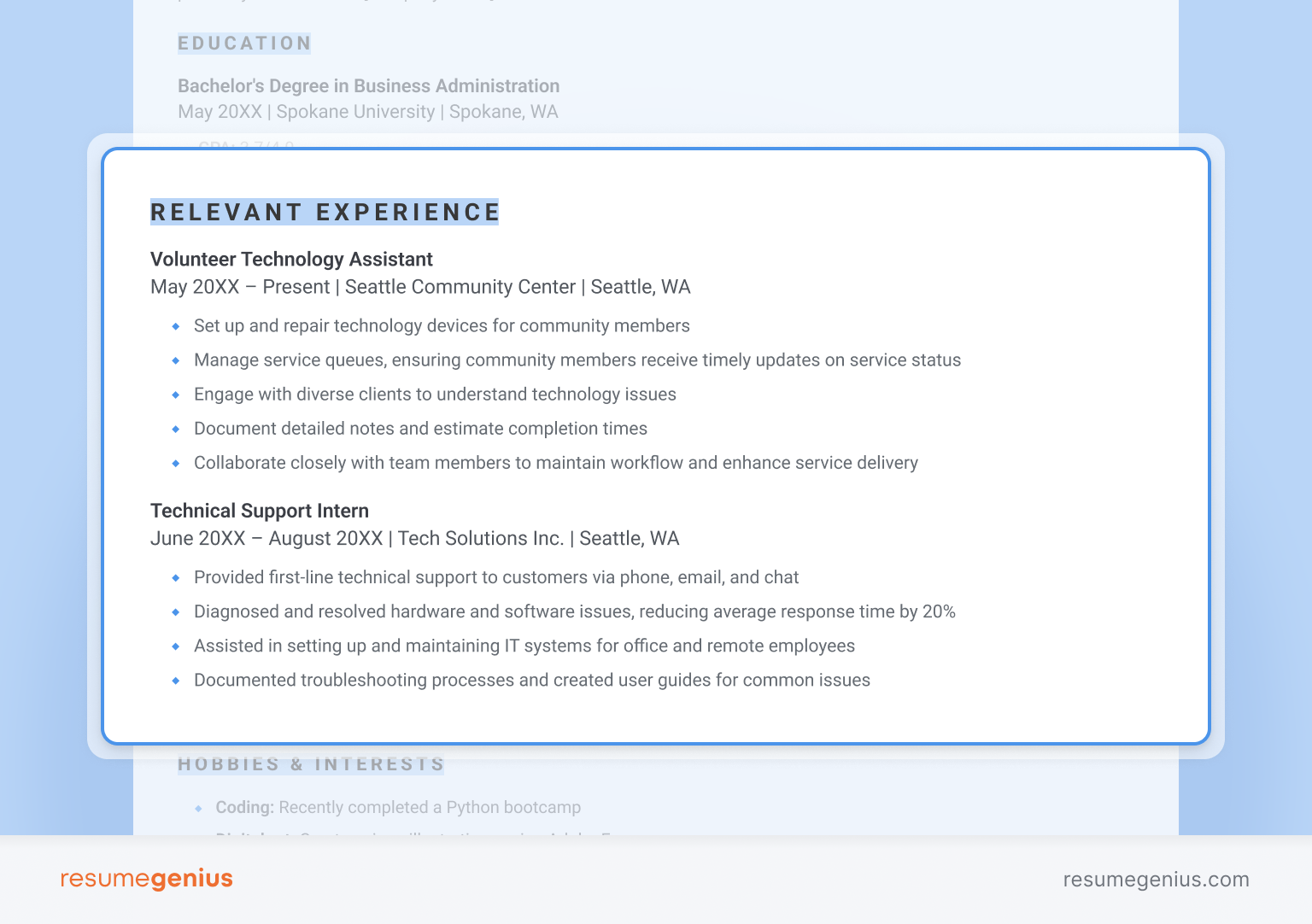 To make your work experience section shine, target each bullet point to the specific job you want. Look carefully at the skills mentioned in the description, and showcase any of those skills you have with clear examples.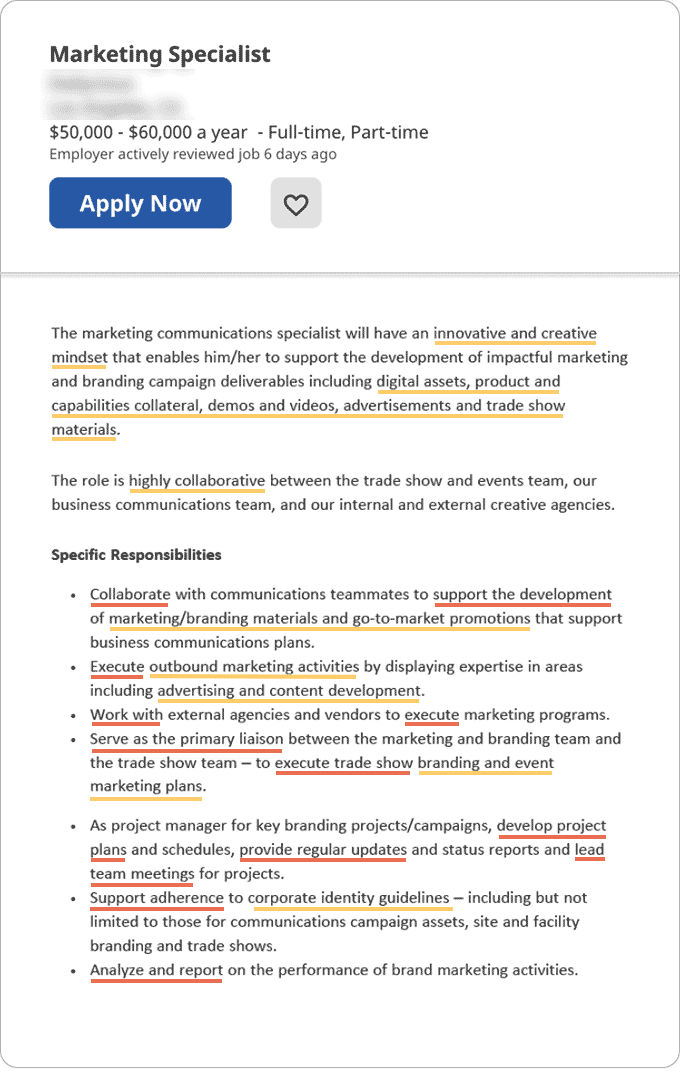 This marketing job ad features many hard and soft skills you can add to your resume.
Taylord's Marketing Firm, Reno, NV
July 2017 – August 2018

• Collaborated with the outreach department to develop innovative marketing solutions for 6 unique products

• Developed branding materials for a new mobile app, resulting in a 14% increase in sales

• Analyzed weekly performance statistics, ensuring that effectiveness of outbound marketing activities
Not only does tailoring your experience section to the job ad make your resume more attractive to employers, but it also helps you get through the applicant tracking system (ATS) software that many large companies use.
ATS software automatically scans your resume for specific skill-related keywords to determine if you're qualified for the role. If the software doesn't find the keywords it's looking for, it automatically rejects your application before a hiring manager even gets to see it.
Sources:
https://writing.wisc.edu/handbook/assignments/resume/
https://www.cnet.com/tech/services-and-software/best-resume-writing-service/
https://resumegenius.com/blog/resume-help/how-to-write-a-resume
Resume writing
With a strict deadline policy, our writers never miss a submission date and can offer drafts for pre-downloading if you wish to have a result sooner. A professional writer will always have your work ready beforehand, to avoid any issues with deadlines.
Telling Your Story
1. Don't Put Everything on There
Your resume should not have every work experience you've ever had listed on it. Think of your resume not as a comprehensive list of your career history, but as a marketing document selling you as the perfect person for the job. For each resume you send out, you'll want to highlight only the accomplishments and skills that are most relevant to the job at hand (even if that means you don't include all of your experience). Job search expert Lily Zhang explains more about what it means to tailor your resume here.
2. But Keep a Master List of All Jobs
Since you'll want to be swapping different information in and out depending on the job you're applying to, keep a resume outline or master resume on your computer where you keep any information you've ever included on a resume: old positions, bullet points tailored for different applications, special projects that only sometimes make sense to include. Then, when you're crafting each resume, it's just a matter of cutting and pasting relevant information together. Think of this as your brag file.
3. Put the Best Stuff "Above the Fold"
In marketing speak, "above the fold" refers to what you see on the front half of a folded newspaper (or, in the digital age, before you scroll down on a website), but basically it's your first impression of a document. In resume speak, it means you should make sure your best experiences and accomplishments are visible on the top third of your resume. This top section is what the hiring manager is going to see first—and what will serve as a hook for someone to keep on reading. So focus on putting your best, most relevant experiences first—and then check out these five other marketing tricks to get your resume noticed.
4. Ditch the Objective Statement
According to Zhang, the only occasion when an objective section makes sense is when you're making a huge career change and need to explain from the get-go why your experience doesn't match up with the position you're applying to. In every other case? Consider whether a summary statement would be right for you—or just nix it altogether to save space and focus on making the rest of your resume stellar.
5. Keep it (Reverse) Chronological
There are lots of different ways to organize the information on your resume—like the functional resume or combination resume—but the good old reverse chronological (where your most recent experience is listed first) is still your best bet. Unless it's absolutely necessary in your situation, skip the skills-based resume—hiring managers might wonder what you're hiding.
6. Keep it to a Page
The two- (or more!) page resume is a hotly debated topic, but the bottom line is this—you want the information here to be concise, and making yourself keep it to one page is a good way to force yourself to do this. If you truly have enough relevant and important experience, training, and credentials to showcase on more than one page of your resume, then go for it. But if you can tell the same story in less space? Do. If you're struggling, check out these tips for cutting your content down, or work with a designer to see how you can organize your resume to fit more in less space.
7. Consider an Online Supplement
Can't figure out how to tell your whole story on one page, or want to be able to include some visual examples of your work? Instead of trying to have your resume cover everything, cover the most important details on that document, and then include a link to your personal website, where you can dive more into what makes you the ideal candidate.
What Are Resume Writing Services, And How Can They Help You?
Resume writing services look at your skills and experiences and help you parse out the details that illustrate why you're a great fit for a particular position, and help you capture the attention of a hiring manager.
However, most people looking for resume writing help to land a dream job or their next executive role, are interested in a full-service option. This is where the best resume writing services will pair you with a professional writer who works with you one on one to gather information about your work and education history to tailor a personalized professional resume from scratch. For those willing to pay extra, they'll also write you a cover letter and help optimize your LinkedIn profile.
We put together this guide to help you choose among hundreds of the best resume writing services. We spoke with industry experts and compared dozens of the most popular resume builder tools and professional writing services to determine which offered the best value to job seekers. We looked at:
Affordable Resume Writing Service Near Me Will Make Your Resume Stand Out!
What you know is only half the battle; whatever industry you are in, self-presentation is often key to success. While other resume companies might give you something from a template, our certified writers take your suggestions and create a customized resume that doesn't just look good but really convinces employers of your unique strengths. SkillHub's resume writing service is designed to make sure you win over a recruiter, even if they're looking at your CV the last thing on a Friday afternoon.
Whether your resume is being looked at by a human recruiter, searched for in LinkedIn, or scanned using resume-scanning software, we offer you our top-rated resume writing service as an investment in your future dream job. What are you waiting for!
How much time have you spent writing your CV? In general, this task takes from several days to weeks. You need to research the company, write down your skills and experience, and arrange all the information in a pretty design. What if we told you, you could use a professional CV writing services instead? Placing an order with us takes less than five minutes!
Sources:
https://www.themuse.com/advice/43-resume-tips-that-will-help-you-get-hired
https://www.careercloud.com/news/best-resume-writing-service
https://skillhub.com/resume-writing-service